General information about Techtextil, your participation in the trade fair as an exhibitor and coming to the trade fair as a visitor.
Opening times
23. – 25. April 2024
9 a.m. - 6 p.m.
26. April 2024
9 a.m. - 5 p.m.
Admission 2024 for visitors
The trade fair is only open to trade visitors; there is no entry for private visitors. Payment in cash and distribution of samples is not permitted.
With the purchase of one ticket, Techtextil and Texprocess can be visited at the same time.
Please also note that only cashless payments can be made at the cash desk.
Stay up-to-date – and save money at the same time?
Benefit twice from our information service when buying tickets: be sure that you know all about the latest themes and events at our trade fairs. And, as a token of our appreciation, get your ticket with a price reduction of up to 33%.
By choosing to purchase a ticket with Info Service, you consent to receive periodic information by email from the Messe Frankfurt group, such as:
Announcement of the next event
Themes & programme
Trends
Planning & preparation for your visit to the fair
Special offers and services
Events of the Messe Frankfurt Group of interest to you
You will be informed of the consent during the ticket purchase process.
We recommend buying your ticket in advance from the online ticket shop, to avoid unnecessary waiting times at the box office.
1-day-ticket
With Info Service
Without Info Service
in advance / online
EUR 35.00
EUR 52.00  
Onsite (cash desk)
EUR 45.00
EUR 67.00
reduced *

EUR 29.00
EUR 43.00

 
 
 
Season ticket
With Info Service
Without Info Service
in advance / online
EUR 54.00
EUR 81.00
Onsite (cash desk)
EUR 74.00
EUR 111.00
 
 
 
* Students; we reserve the right to check the legitimation on site. Please have your corresponding proof ready
Free local public-transport with your ticket
All admission tickets (except complimentary tickets) include free travel using local public-transport services operated by the RMV public-transport authority throughout the entire area covered by the authority. Tickets purchased on arrival at the fair only entitle the user to travel back from Messe Frankfurt free of charge.
Please note: Vouchers must be exchanged for an admission ticket on the internet to be able to use local public-transport services operated by the RMV public-transport authority to and from the fair. The online ticket can only be used in the RMV public transport network in connection with a valid ID card or passport.

To RMV-Website
Important note: We would like to offer you the best possible personal service. Therefore, as of now, it is no longer possible to issue visitor tickets for other people than yourself. In your personal Messe Frankfurt login, you can purchase and manage your personal tickets in just a few steps. You don't have a personal Messe Login login yet? You can register here free of charge.
If you have any questions, please call +49 69 7575 – 0 or use our contact form.
Distances to Messe Frankfurt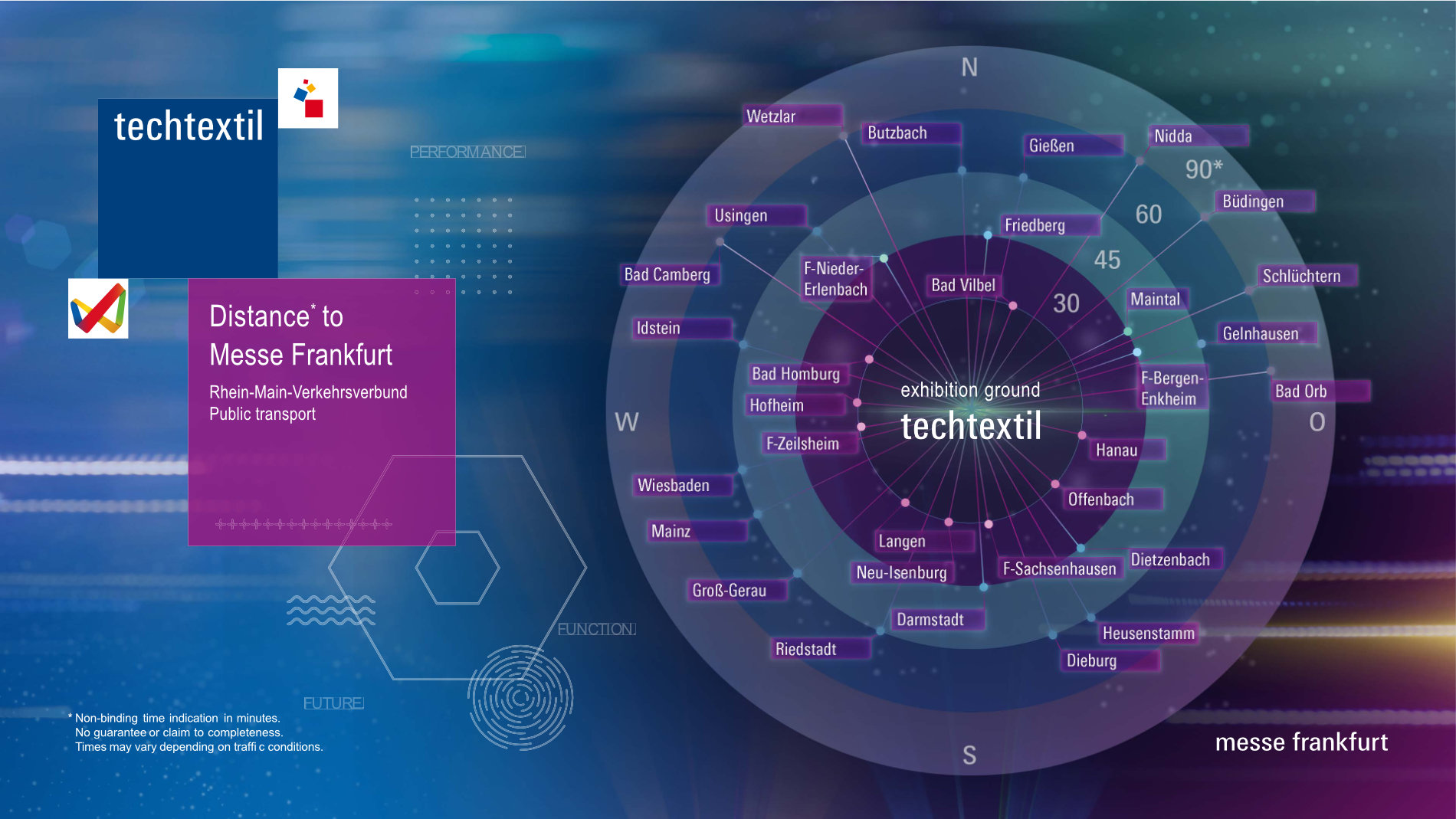 You don't want to limit your choice of hotel to the Frankfurt city area? On our map you can see well-located places in the Rhein-Main-Verkehrsverbund (RMV).
From there, you can reach Messe Frankfurt quickly, environmentally friendly and free of charge – because your visitor ticket includes free use of local public transport.
Techtextil App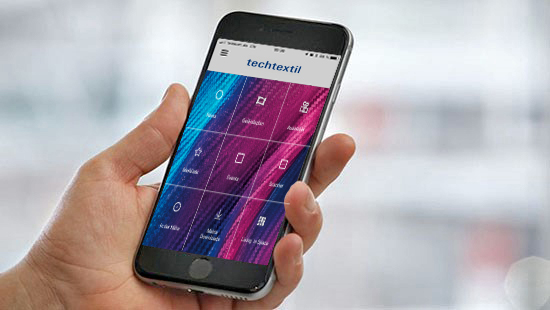 The App "Techtextil Navigator" is the orientation guide for visitors of Techtextil. With its help, you can find your way around the fairgrounds (Site and Hall Plan), through the Exhibitor and Product search or receive inspiration through news and twitter messages. Techtextil Navigator is available for Apple-Products (iPhone, iPod touch, iPad) on the App Store and Android on Google Play Store as a free App.
Techtextil Navigator on the Apple App Store
Techtextil Navigator on the Google Play Store
Catalogue
Use the official trade fair catalogue to get a complete and efficient overview of all the companies exhibiting at Heimtextil. Detailed information will provide you with optimum support during your visit to the fair and can be purchased at the cash desks during the event.